Remembering: Hurricane Katrina
Hurricane Katrina was a catastrophic hurricane that caused extreme destruction across Southern Florida and Southeastern Louisiana in August of the record shattering 2005 Atlantic hurricane season. Today we commemorate the 15th anniversary of Katrina's legendary landfall in Southeastern Louisiana as a Category 3 major hurricane.
Hurricane Katrina's origins can be traced back to the interaction between a tropical wave and the remnants of what was formerly known as Tropical Depression Ten (10L) back in Mid-August. The two entities underwent a merger on August 19, resulting in the formation of a large area of showers and thunderstorms to the north of Puerto Rico. This area continued to move northwestward before consolidating into a Tropical Depression, the twelfth of the season, on August 23.
Initial forecasts suggested that Katrina would make landfall in Southeastern Florida as a strong tropical storm to minimal hurricane before resurfacing over the Gulf of Mexico and accelerating towards the western Florida Panhandle as a weak hurricane once again. The depression would continue organize, eventually being named Katrina as a result of attaining gale force winds. The storm would continue to intensify into a Category 1 hurricane on August 25, mere hours before making it's first landfall in South Florida.
Katrina would cross Southern Florida, still sustaining hurricane intensity 12 hours after landfall, aided by a sudden short-lived burst of acceleration. Contrary to initial forecasts (mentioned earlier), Katrina shifted it's motion West-Southwestward into the Southern Gulf of Mexico where it encountered very favorable conditions. As a result, Katrina would go into two distinct phases of rapid intensification between August 26 and 28.
These intensification phases would eventually culminate into Katrina reaching an estimated peak intensity of 902 mbar (26.6 inHg) at around 18:00 UTC on August 28, with 1-minute sustained winds estimated to be 175 mph (150 knots; 280 km/h) according to the National Hurricane Center (NHC). Throughout this phase, Katrina's forward motion shifted gradually more northwestward, resulting in a curve to due north shortly after peak. Rapid weakening would take place thereafter, culminating to it's second landfall in Southeastern Louisiana on August 29 at around 11:10 UTC as a 125 mph (205 km/h) Category 3 major hurricane. This was followed by a third landfall, still as a Category 3 hurricane near the Louisiana-Mississippi border later that day.
Further weakening then took place thereafter as Katrina had lost warm water for fuel to sustain itself where it eventually degenerated into an Extratropical Low around 0000 UTC on August 31 before fully merging with a separate frontal system 12 hours later, thus ending it's relatively-short but destructive journey.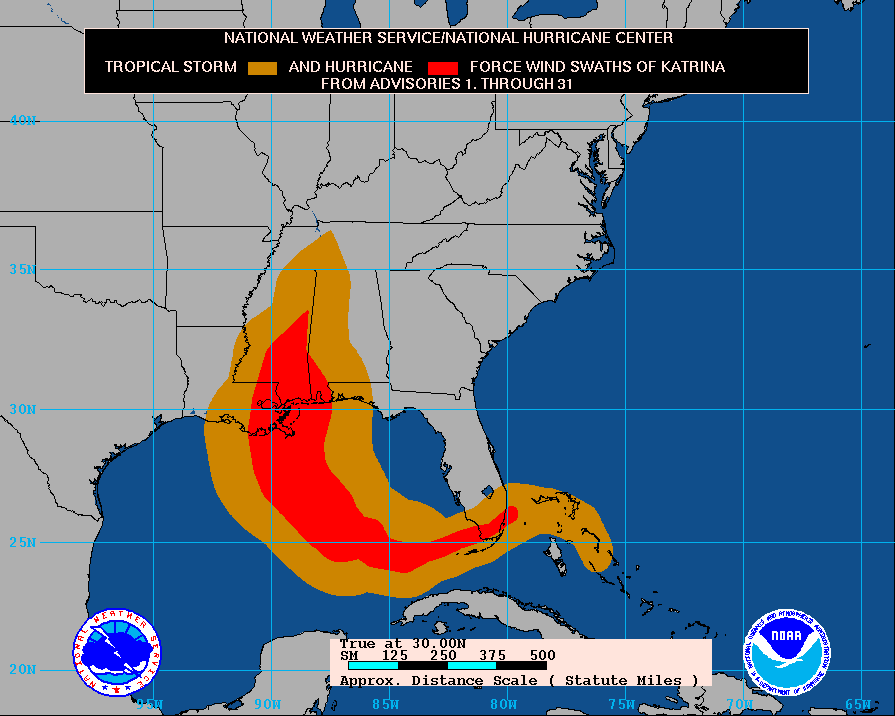 Katrina managed to deliver hurricane-force winds to Florida, Louisiana, Alabama and Mississippi and Tropical storm-force winds to all the aforementioned locations plus the Bahamas and Tennessee and became the costliest Atlantic hurricane on record when adjusted for inflation. Furthermore, its $125 billion (2005 USD) price tag is the highest observed by a tropical cyclone in the world. This was primarily caused by several (53) levee failiure(s) in New Orleans, LA due to the sheer weight of the storm surge brought along by the storm. The death toll from Katrina is estimated to be between 1,245 and 1,836 total as of current data.
Katrina is tied with Harvey (2017) for the costliest Atlantic hurricane AND Worldwide tropical cyclone on record
It is the fourth-most intense landfalling hurricane on record behind Labor Day 1935, Camille 1969 and Michael 2018.
Katrina is the second-earliest K-named storm in the Atlantic behind Kyle 2020
Up to 80% of New Orleans, LA was inundated at some point
Katrina was retired by the World Meteorological Organization (WMO) and replaced with Katia on April 6, 2006
External Sources