Powerful Nor'easter Expected to Drop Large Amounts of Snow From Virginia to Pennsylvania Mid-Week
Models have come into stunning congruency that a very strong Low Pressure system is expected to ravage the Northeast and Mid-Atlantic this upcoming Wednesday Night into Thursday with over a foot of snow possible from Virginia up into New York state. Freezing rain accumulations are also possible over Western North Carolina and there is a chance for an isolated severe weather threat over Eastern North Carolina. There is some uncertainty remaining, mainly over where the heaviest snow will occur, but it is sure that there will be severe impacts wherever the storm hits.
Forecast
The Storm is expected to begin taking shape Monday Evening over the Colorado Rockies and organize over the next few hours. At around 2am CST the leading edge of the storm will begin to move over Eastern Colorado while a tail end of the front will begin to drop snow over Kansas and Nebraska. The storm will continue to slowly move Southeast and by 12pm CST it will have begun to drop heavy amounts of snow over Oklahoma while it tries to organize itself around a Low Pressure system. Snow will continue to fall over Oklahoma for the next 6 hours as the Low Pressure system will fail to form but the storms energy will be pulled northward as it tries to develop another Low Pressure system over the Western Ohio River Valley bringing snow to Missouri, Illinois and Indiana while it attaches itself to a  front that will stretch southward into Alabama.
By 6am CST Wednesday snow will be falling over Illinois and Indiana while the Cold Front continues to move Eastward. Meanwhile a Low Pressure system will develop off the coast of Georgia and move Northward over North Carolina. These two systems will collide on Wednesday and begin to bring snow from line stretching from about Cincinnati, OH to Roanoke, VA northeastward. This snow will persist for a full 24 hours as the front gets absorbed by the Low Pressure system off coast and by Thursday by around 4pm CST most of the snow will have moved out from the region, though snow may persist along Cape Cod, MA until Friday Night.
Impacts
Starting with the Great Plains region, light to moderate snow accumulations can be expected as Winter Weather Advisory's are in effect for Southern Nebraska, Western Kansas, Southeastern Colorado, Northern Oklahoma, the Oklahoma Panhandle and Northern Texas. Most of the area will receive a trace to 2″ of snow, though higher amounts can be expected in Northwestern Kansas where it can hit 2-4″ of snow. Gusty winds are possible in Southwestern Colorado which could create times of blowing snow and snow drifts making the morning commute especially hazardous. The highest snowfall totals in this region will be observed in Northern Oklahoma where 4-6″ of snow are possible in some areas. As the storm moves through the Ohio River Valley on Wednesday, very light snow accumulations should be expected across Missouri, Illinois and Indiana but amounts of 2″ are possible mainly over West-southwest Indiana.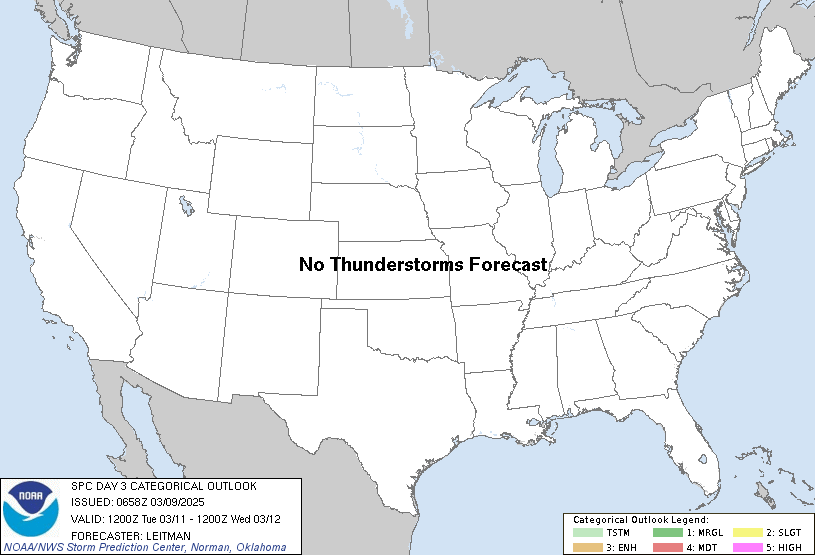 North Carolina will be facing a wide range of impacts. In the Western part of the state freezing rain seems to be on tap as accumulations up to 0.13″ can be expected. This will create very dangerous conditions and it is strongly discouraged to go out and travel when it occurs as it only takes a tenth of an inch of ice to cause roads and sidewalks to become very slippery and dangerous. Meanwhile on the extreme Western side of the state, a Marginal Risk for severe weather is in effect meaning isolated severe storms are possible. The Storm Prediction Center states that when the Low Pressure systems moves northward, a small window could exist for enough destabilization to occur to allow the formation of isolated supercells which could bring some damaging wind gusts and isolated tornadoes. If a severe storm does form or a tornado does drop, be prepared to move to the basement or interior room of your home and stay away from any exterior walls.
The places most affected however will be the Mid-Atlantic to the New England Coast where Winter Storm Watches are in effect for Western Virginia, Eastern West Virginia, most of Maryland, Delaware, New Jersey, Eastern Pennsylvania, Southern New York including New York City, Connecticut, Rhode Island and Southern Massachusetts. In the Virginia's it will be a mix of snow, freezing rain and rain with most areas experiencing snow Wednesday and then having it turn to a wintery mix of freezing rain and rain Wednesday Night before it becoming all snow again on Thursday. As much as 4-8″ of snow can fall in the central Appalachians but may approach 12″ in some spots with the most likely areas of ice accumulation being in Southern Virginia. In the northern part of Virginia, over a foot of snow is likely Northwest of a Charlottesville to Washington D.C. line.
The heaviest snow will be centered in Pennsylvania where 12-18″ are expected over a large swatch of the state. Uncertainty remains for Delaware and New Jersey on how much snow those areas will get for it depends how Eastward the system will track. It is certain that along the coast of Southern New Jersey and Delaware it will be mainly rain with potential amount up to 3″ possible making coastal and isolated flooding possible. The New York City metropolitan area is expected to receive 14-16″ of snow along with 45mph winds which could produce periods of blowing snow or even blizzard conditions. Rhode Island and Massachusetts are expected to get 6-12″ of snow with very windy conditions as well.
With all of this being said, impacts from this storm are going to be devastating. The intense amount of snow falling along with 40-50mph wind gusts will create very low amounts of visibility which will make driving very difficult and if not impossible. The ice will create very slippery conditions which will be dangerous to people out driving and walking. The intense winds will be able to being down tree branches which will cause additional destruction if they fall on power lines causing power outages or on roofs of houses causing structural damage and making it uninhabitable during the storm. The winds will also cause large snow drifts making some areas impassible especially in rural areas. On the Weather Prediction Center's Winter Storm Severity Index (WSSI), Most of the Winter Storm Watch area south of New York state is expected to get Moderate to Major impacts from the storm meaning that damage to life and property is likely and will usually disrupt daily routines. Take action now to prepare for an extended period with potentially no power and having most businesses shut down and not being able to commute to most places.
Stay tuned to your National Weather Service , local authorities for the latest updates. Force Thirteen US YouTube channel  will be posting daily updates on this storm as well potential Live Coverage on it Wednesday. Be prepared for this nor'easter and most importantly, be safe.