Remembering the 2011 Super Outbreak: April 26 "The Tornado Threat /Including the Possibility of Strong Tornadoes/ Expected to Steadily Increase"
One day of storms had produced 42 tornadoes and 5 fatalities. The ongoing system continued to move North and behind it, much warmer weather was ushered into the region. Maybe the worst was over, people thought. Maybe the threat would finally move east and no longer affect the region. In reality, practically the same area was under the gun once again but this time the SPC described the threat with an even higher risk, rarely used but had been used 10 days earlier for a previous tornado outbreak.
Morning Weather Outlooks
After reviewing the weather model data and looking at the setup, the Storm Prediction Center (SPC) issued a rare High Risk for severe weather meaning a tornado outbreak is expected. The risk initially was for Northeastern Texas, Southeastern Oklahoma, extreme Northwestern Louisiana and Southern Arkansas, but was later expanded to include Southwestern Tennessee and Northwestern Mississippi. Here moisture flow from the Gulf had created even more instability (meaning it would be easier for air to rise and produce thunderstorms than before) than the previous day and temperatures across that region began to soar into the 80's and 90's Fahrenheit (upper 20's to low 30's Celsius) and dew points rose into the 70's Fahrenheit (low to mid 20's Celsius) making forecasted CAPE values (Convective Available Potential Energy measured in joules per kilogram which is a measurement of how unstable that air is/how easy it is for air to rise) shoot into the 3000-4000 range, extremely high and favorable for tornadoes. Meanwhile wind shear (winds blowing in different directions and speed with height) continued to strengthen and support rotation. because of this, the SPC predicted widespread supercells (a thunderstorm with rotation and the potential to produce a tornado) would form near the AR/TX border and rapidly produce potentially strong (EF-2 to EF-3) tornadoes. Models then suggested that a second wave of supercells would form later in the evening as the conditions continued to get move favorable but this time these storms would form over Northern TX/OK and have a higher chance of producing strong tornadoes. Once these moved west, they would enter a more favorable environment which after this either, 2 solutions emerged: 1. The storms would remain discrete and produce strong or even violent tornadoes (EF-4+, the highest ratings) or 2. they would organize into a powerful bow echo and blast the region with intense winds.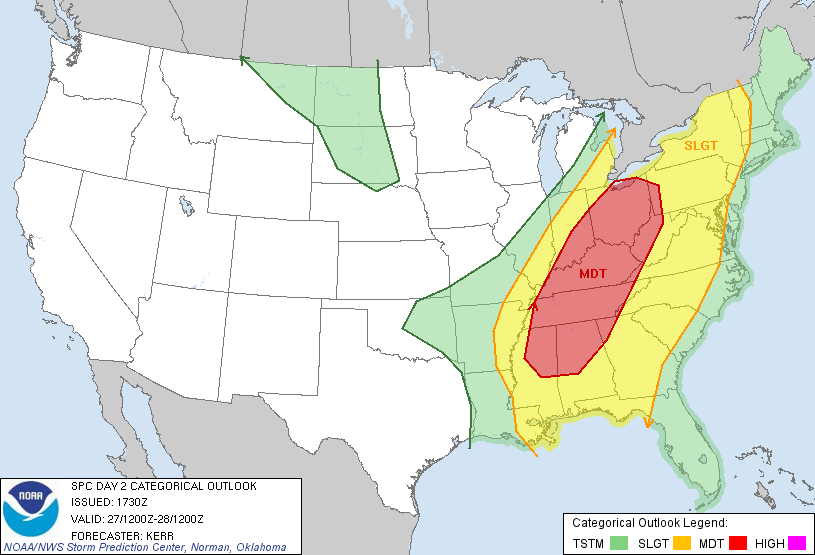 For the Day 2 (April 27) outlook, a Moderate Risk was still in place for the "Potential for a significant/widespread severe weather event — including the possibility of a tornado outbreak…" mainly focused over Tennessee but also for Northern Alabama, Northeastern Mississippi and Eastern Kentucky, where the Moderate Risk was in place. Here the previous days weather system would still be going on and move through the region but behind it, an extremely unstable air mass would be ushered in which as a new storm system arrived would support significant tornadoes (EF-2+) but because of the environment any tornadoes that occurred would have the high potential of being long-tracked. North of this region the storm system was likely to produce a damaging wind event so therefore the risk was expanded northward toward Lake Erie and included parts of Ohio, Indiana, West Virginia, Pennsylvania, and Virginia. The only uncertainty was that if additional storms formed before the main event, they would hinder destabilization and make it unsuitable for intense storm development.
For the Day 3 (April 28) Outlook, the previous days storms were expected to organize into a linear system and move onto the east coast where a Slight risk was issued. Here the environment was not quite as favorable for storm development but 1000 CAPE was still present which was plenty for tornadoes.
Weather Event
30 minutes after the clocked chimed midnight, the first tornado of the day touched down associated with the previous day's storms. An intense bow echo stretched from Greenville, MS to Tupelo, MS northward toward Evansville, IN with the most intense part in Tennessee. Here imbedded tornadoes in the line were occasionally touching down. 4 tornadoes touched down in the next 30 minutes before a powerful EF-3 hit an army base near Phil Campbell, KY destroying a building and damaging 3 others before lifting 3 minutes later. Despite this tornado and an EF-2 that hit a rural area in Indiana, the tornadoes were relatively weak. Things were silent for the next few hours until another bow echo from the previous day hit the Gulf Coast producing 2 more EF-1 tornadoes an hour apart which both hit Mississippi. After this storms fell quiet for 6 hours as the main events began taking shape.
The first watches issued this day were associated with the previous low-pressure system which was now over the Great Lakes with a front that stretched across the Appalachians. Ahead of this front was a relatively favorable environment for storms prompting 2 Severe Thunderstorm Watches for New York, Pennsylvania, Virginia and West Virginia. Damaging winds were rampant and 2 tornadoes also occurred. A few hours later at 2:05pm CDT, a Tornado Watch was issued for parts of Michigan, Indiana and Ohio as another part of the low entered a relatively favorable environment here as well. Only a few cells ended up forming, though one weak tornado did touched down in Michigan.
Back over the Southeast, the SPC continued to monitor conditions over the High risk region and before any storms popped up on radar the SPC issued a Particularly Dangerous Situation (PDS) Tornado Watch at 1:45pm CDT for parts of Texas, Louisiana and Arkansas. The watch included a greater than 95% chance of 2 or more tornadoes and a 90% chance of one or more significant tornadoes within 25 miles of a given point inside the watch. Storms began to slowly form and intensify in this region, mainly along a line from southeast of Dallas, TX to west of Memphis, TN. At 3:05pm CDT as storms were still intensifying, a second PDS Tornado Watch was issued for parts of Arkansas, Mississippi, Tennessee and 3 other states. But even after this it took another 2 hours before storms began to become tornadic and more widespread but even then they were generally weak. But the SPC did issue 2 more Tornado Watches, one for Texas and Louisiana directly south of the first PDS watch and one for Arkansas and Oklahoma north of the PDS watch.
Just before 4:00pm CDT, the SPC issued a Mesoscale Discussion  to discuss what is current situation and what was expected. The environment had ended up not becoming as favorable as expected. The 3000-4000 CAPE was mainly present over Eastern Texas while CAPE values were around 2000-2500 across Southern Arkansas, which was still plenty for tornadic development but potentially not to the degree as expected. But as wind shear increased through the night, "…the tornado threat /including the possibility for strong tornadoes" was "expected to increase toward/after dark." This would indeed be the case, but not for the region originally predicted.
By 6pm CDT storms had taken up a fish hook shape from Memphis, TN to Fayetteville, AR to Dallas, TX to Lufkin, TX back north to Texarkana, AR as discrete cells. Although few tornadoes were touching down, these storms were dropping large hail and bringing damaging winds. Just after 7pm CDT a cell did produce an EF-2 tornado on the Texas side of the TX/LA border. This 10min. tornado caused some damage to a metal roof and downed many trees before dissipating. This tornado kicked off a new wave of activity as discrete cells in Texas began to intensify and move east over Louisiana. About 40 minutes after this initial tornado, a new, large EF-2 tornado touched down near the TX/LA and stayed on the ground for 42 miles and about 55 minutes. It mainly hit rural areas passing just south of Shreveport, LA but did damage many homes and a mobile home and destroyed many trees, injuring 2 people.
As the night progressed the storms over Louisiana became a powerful bow echo and continued to move east producing damaging winds and tornadoes while storms over Arkansas fanned out and became a disorganized mess over Mississippi, Tennessee and Kentucky while new storms began to fire up over Texas. This prompted the SPC to issue 3 new watches, first was a new PDS Tornado Watch issued at 9:35pm CDT for Louisiana, Arkansas and Mississippi also with a greater than 95% chance for 2 or more tornadoes. At 9:45pm CDT a Tornado Watch was issued for the developing storms over Texas associated with this system and at 10:00pm CDT a Tornado Watch was issued for the northern part of the line in Arkansas, Tennessee and Kentucky. This part of the line no longer posed a significant tornado threat but was mainly now a damaging wind threat. By 12am, though, the main bow echo over Louisiana had crossed into Mississippi and showed no signs of weakening. At around 11pm CDT it produced its last tornado for the day but continued to produce damaging winds across the south, threatening to cut power to millions as the area braced for what the next day would bring.
All in all, 55 tornadoes had touched down on April 26 including 4 EF-2 and 1 EF-3. This brought the total amount of tornadoes of the outbreak to 97 with 8 EF-2 and 2 EF-3. Despite the number of tornadoes that occurred, most of them missed the High risk area and occurred in Louisiana, just south of the risk. The bow echo of storms continued through the night and it would be this event that would begin the next 24 hours of almost non-stop activity of one of the worst weather days in American history:
April 27, 2011
Sources:
https://en.wikipedia.org/wiki/List_of_tornadoes_in_the_2011_Super_Outbreak
https://www.spc.noaa.gov/exper/archive/event.php?date=20110426
https://www.spc.noaa.gov/products/outlook/archive/2011/day2otlk_20110426_0600.html
https://www.spc.noaa.gov/products/outlook/archive/2011/day2otlk_20110426_1730.html
https://mesonet.agron.iastate.edu/current/mcview.phtml?prod=usrad&java=script&mode=archive&frames=600&interval=5&year=2011&month=4&day=26&hour=0&minute=0
https://gis.ncdc.noaa.gov/maps/ncei/radar