Remembering the 2011 Super Outbreak: April 27 "An Extremely Dangerous/ Life Threatening Situation"
Two days of straight tornado activity over the Gulf Coast had produced almost 100 tornadoes and 5 fatalities. As people woke up across the nation the next morning, they quickly realized something horrifying: the worst was indeed not over and actually, hadn't even started. April 27 would be the peak of the outbreak and many tornadoes would occur. People in the area most likely for storms and the nation watching braced for what was coming, hoping that it wouldn't be as bad as predicted.
In reality, more tornadoes would occur in this one day than any other day in world history and the more people would be killed in tornadoes in this one day from tornadoes than any other day in the previous 79 years.
Morning Weather Outlooks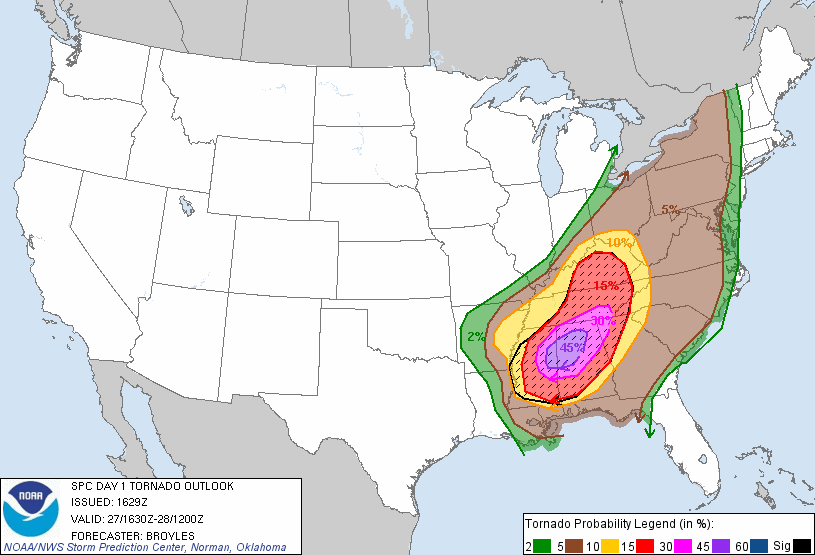 The Day 1 outlook for April 27, 2011 once again featured a High Risk for severe weather, this time for Northern Alabama, Northeastern Mississippi, Northwestern Georgia and Southern Tennessee. Here a strong squall line from the previous day of storms was expected to move through the region in the morning. This would bring damaging winds and tornadoes as it fed off of the untouched environment and would temporarily make conditions unsuitable for storms. However, the environment was expected to rapidly recover as moisture from the Gulf was expected to surge back into the region and make the atmosphere once again unstable. Convective Available Potential Energy (CAPE) values, a measurement on how easy it would be for air to rise and produce thunderstorms measured in joules per kilogram of air, were expected to be between 2500 and 4000 which is extremely favorable for tornadoes. The only catch was a cap would be in place, or an area in the lower part of the atmosphere where if an air particle were to rise it would be cooler than its environment and sink back down making it unable to produce thunderstorms. This would stop severe weather from happening until the afternoon when a dry line and cold front would interact with this environment. This would cause the cap to explosively break and cause the rapid development of supercells (thunderstorms with rotation making a tornado likely from them). These storms would be not only particularly strong with the potential for 1 or 2 violent tornadoes (tornadoes with 166mph winds or greater) but also allow for any tornadoes to be long-tracked. Supercells that did form would also pose a risk for large hail and damaging winds. The environment and setup looked so good that the Storm Prediction Center (SPC) did something very uncommon. Instead of the usual 30% risk for a tornado within 25 miles of a given point inside the High risk, they upgraded it to a 45% risk for parts of Alabama and Mississippi, above the High risk criteria. This had only been done once which had been issued over 5 years earlier. It was clear the setup was there for a major tornado outbreak and it was just a matter of time before storms initiated.
For the following day of April 28, a Slight Risk was maintained for a majority of the Eastern Coast. Here the previous days event was expected to become a linear system and with that bring a chance of tornadoes to the coast, though these were expected to be more marginal in intensity as CAPE values of 500-1000 would be present, which isn't the most ideal for tornadoes. Nevertheless, damaging winds also seemed like a possibility but mainly over the Carolina's and Virginia Coast before the system moved off shore.
Weather Event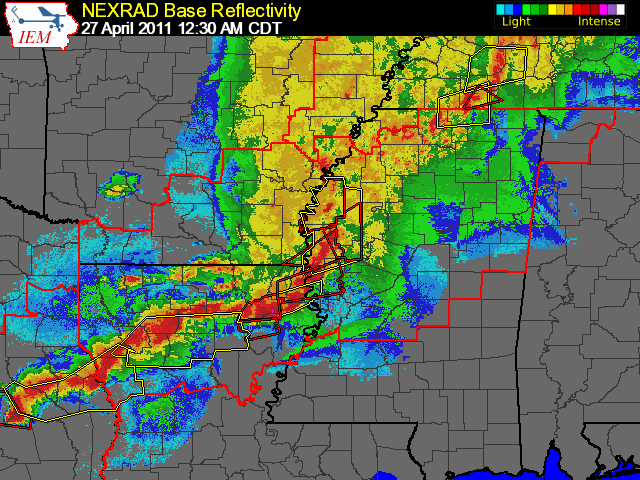 The day immediately began with a bang as storms over Louisiana continuing from the previous day began to drop tornadoes across the state. This main line of storms stretched from Monroe, LA to Greenville, MS while a second line stretched east behind that line. The full squall line stretched northward into the Ohio River Valley but the northern section didn't pose as much of a risk tornado wise but more of a risk for large hail. The southern end over Louisiana, however, posed a damaging, straight-line wind threat which had frequent gusts up to 85mph (137kph) while imbedded tornadoes were touching down, including an multi-votex EF-1 and multiple EF-2 with one wrapping a mobile home frame around a tree. This line of storms began to race across the state and into Mississippi where the main line of storms began to shift north and allow the second line of storms to turn more vertical behind it. At 1:40am the main line of storms stretched parallel to I-55 and was just north of Jackson when the first EF-3 tornado touched down that day. It stayed over mainly rural areas near the Yazoo River but did damage some homes and mobile homes. It later merged with another EF-2 tornado before dissipating.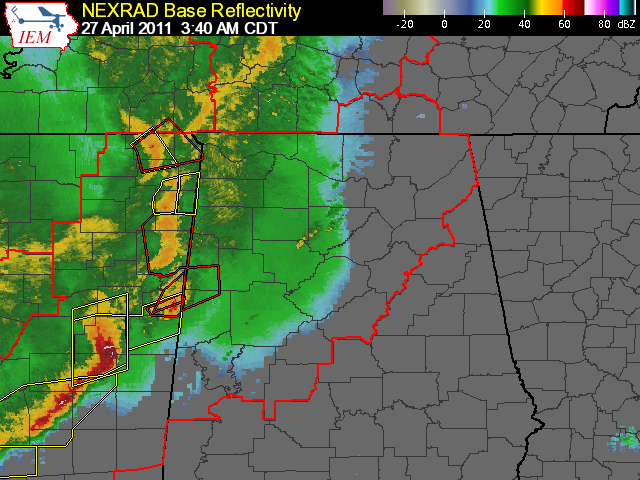 By 2am the first line of storms had begun to fall apart while the second one became the more dominant storm system. This prompted the issuance of a new Tornado Watch for Alabama and Mississippi and also parts of Tennessee and Louisiana. For the next few hours while the first wave moved north and hit the northern part of Mississippi while the second, stronger wave moved through the central part of the state and spread even more wind damage. At around 2:30am an EF-3 tornado touched down near Europa and tracked for 58 miles before lifting while an EF-2 tracked along side it for 13 miles and killed 1 person. These tornadoes damaged or destroyed many homes and businesses and even tore off a canopy on a gas station. At 3:40am, another EF-2 tornado touched down in northern Mississippi devastating the community of Belmont. By 4am the main line of storms began to enter the state of Alabama and produced 2 long-tracked tornadoes that moved west and north of Tuscaloosa. The first rated EF-2 and the second, which was caught on air by channel ABC 33/40, was rated EF-3. Then another EF-3 hit the town of Coaling, AL near Interstate 20-59 damaging and destroying many homes while a minute later another EF-3 touched down in Cordova causing more damage there. But while this way began its assault on Alabama, a new wave of storms was forming right behind it.
At around 4am CDT a new wave of thunderstorms began developing over Arkansas and Texas in response to a developing low-pressure system. These storms mainly were a hail and damaging wind threat as they began to move northeast and organize. Soon they would become the center of attention for the day's events. But meanwhile, the main line of storms continued to move through Alabama spreading damaging winds with gusts hitting 90mph. At around 5:48am CDT, a powerful EF-2 tornado hit south of Cullman, AL at Hanceville causing damage to many farms and a school campus killing 1 person. Numerous small tornadoes began touching down after this in Marshall County near Guntersville while a longer EF-2 tracked north of the city until a long-tracked EF-1 killed 1 person as it moved through the northeast part of the state. After this the activity shifted over to Tennessee with numerous tornadoes touching down, though they were generally weak. By 8am the line began to pass over the Appalachians and Georgia where energy was not as present and robust like over the southeast and because of this began to significantly weaken. But the damage had already been done. A long stretch of wind damage was present across Mississippi and Alabama that had hit cities like Jackson, MS, Tuscaloosa, Al and Birmingham, AL. Hundreds of thousands of trees had been blown down, powerlines had been brought down cutting electricity to millions, widespread straight-line winds caused more widespread property damage while 92 tornadoes had touched down causing locally intense damage. 3 people had been killed from the tornadoes with many more from the damaging winds and hail. And with all of this not only were as skycams damaged making it harder to see and broadcast weather conditions, NOAA weather radio transmitters, transmitters that allowed warnings to be immediately broadcast after being issued, had been damaged and made inoperable. With this a quarter of a million people were without power, without their NOAA weather radio broadcasting correctly and were completely oblivious of the upcoming wave of storms as the temperature rose and the skies cleared revealing a beautiful, sunny day.
At 8am a new Tornado Watch was issued for the northern parts of Mississippi and Alabama as a new, smaller squall line began to ravaged the northern parts of the states as the low-pressure system continued to develop over Arkansas and Missouri. This wave continued to bring intense winds through the state of Mississippi and by 11am also Alabama and Southern Tennessee. Over the state a new wave of tornadoes began to ravage areas north of the Tennessee River. These, however, were relatively weak and didn't cause that much damage compared to the straight-line winds. But at this point, the first hints of what was to come began to be announced by the SPC and it didn't look hopeful.
At 10:45am CDT a Mesoscale Discussion (MD) was issued for Mississippi where it described the conditions currently present. Clear skies had returned after the main line of storms and with moisture continuing to surge into the region causing dew points to rise by 8-12F in just 2 hours, the environment was once again very unstable with wind shear continuing to increase by astonishing levels. It was prime for tornado development and thus the SPC said that a Particularly Dangerous Situation (PDS) Watch would be issued for the state very soon. This is because attached to the squall line dragging south was a dry line or a line that separates warm, moist air in front of it from warm, dry air behind it. it forces warm to immediately rise and produce thunderstorms which in this case would be supercelluar. This, however, was not expected to happen until the afternoon and be more centered over Alabama and Eastern Mississippi. Shortly after this at 11:05am, a PDS Tornado Watch was issued for almost the entire state of Mississippi as well as small parts of Louisiana and Arkansas. The probabilities for the watch were shocking. There was a greater than 95% chance for 2 or more tornadoes and 10 damaging wind and hail reports while there was a 90% chance for 1 or more significant tornadoes (111mph or 179kph tornado or greater), 1 wind report of 75mph (120kph) or greater and 1 hail stone larger than 2″ (5cm) in diameter. Although the threat was not expected until the afternoon, the SPC did state that "All parameters suggest [that] strong/violent and long-track tornadoes are possible." During this time a line of thunderstorms developed just east of the Mississippi River in Arkansas and around 12:30pm crossed over into Mississippi. 20 minutes later at 1:05pm, the SPC issued another MD, this time for Alabama stating a similar thing and 30min. later issued another PDS Tornado Watch for Alabama but also a few counties in Tennessee, Georgia and Mississippi where "A classic tornado outbreak situation…[was]…developing." Here for the first time ever in a watch, all the probabilities were greater than 95%. Never before had this been seen and only once to date after this point (May 20, 2019) has it been seen. But by this point, the new wave of supercells had already produced the first tornado.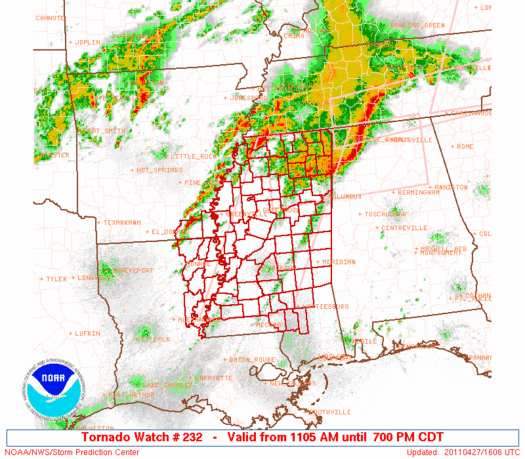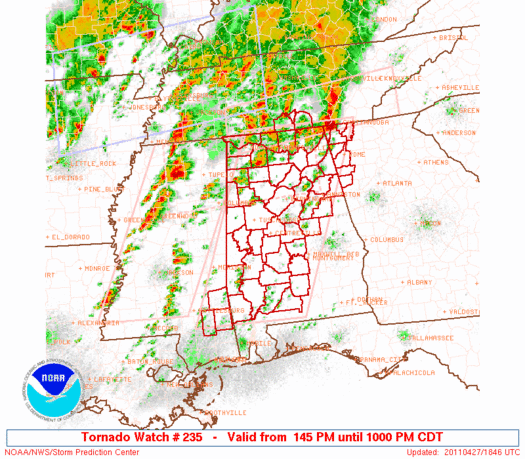 At 1:36pm CDT the first tornado of these supercells touched down and moved just south of the city of Oxford destroying many homes and mobile homes. The front would fall silent for about an hour after this while the previous day/morning system began to harass the Northeast producing some severe storms and tornadoes. Despite this the extremely favorable conditions present were becoming clear to all. Meteorologist James Spann went live on TV at 2:00pm to notify the public of the PDS watch just issued along with a developing supercell. When checking the details on the cell, the Significant Tornado Index, an index to show how likely a significant tornado is, was at 12.6; a number so high that Spann had never even seen something like it on a scale that he thought went to 10. At the Weather Channel, their metric used to measure tornado likelihood called the Tornado Condition Index (TORCON) maxed out at 10/10 for the first time in its history. But by 2:30pm attention shifted back to the Southeast as the cap began to break. At this time a tornado touched down near the town of Philadelphia, MS and immediately intensified into a powerful EF-5 tornado. It stayed over rural areas but caused extensive ground scouring (removal of grass and dirt) of up to 2ft. (0.6m) deep and even removed asphalt from a road. 3 people were killed in it as it stayed away from populated areas. But just 10min. after this tornado touched down, a large and multi-vortex tornado (meaning there were multiple funnels inside the main one) touched down near the city of Cullman, AL and gave the city a direct hit. Many well-built buildings were destroyed and the downtown was hit directly. Churches, schools and even the courthouse were all hit and all were badly damaged. The tornado remained on the ground and moved just north of Arab where it swept away a brick home. 6 people were killed in the tornado as the SPC began to take note of the situation.
At 2:56pm CDT as the Cullman tornado was still on the ground, the SPC issued another MD stating that "an extremely dangerous/life threatening situation continue[d] to unfold" in the area. They once again reiterated the conditions present and also said that scattered supercells were likely to continue forming in the region and that the threat for long-tracked/strong and possible violent tornadoes were still likely. They also issued a new PDS Watch for Central and Western Tennessee as supercells began to head northeast to that part of the state. The probabilities were not as high as the previous watches, but still featured a 90% risk of 2 tornadoes and 80% chance of a significant tornado. A couple minutes after this watch was issued a powerful EF-3 touched down in Mississippi and would remain on the ground for almost an hour destroying communities in New Wren, Anchor and Houston killing 4 people.  but it was the tornado that touched down right afterwards that gained everyone's attention.
A powerful touched down at 3:00pm CDT just south of Hamilton, AL. It quickly went on to hit the city of Hackleburg where mass destruction occurred. well built homes were swept away, a school was heavily damaged, asphalt was torn out of roads, trees were debarked and cars were thrown long distances. The tornado continued to move northeast while behind it, the supercell that produced the New Wren tornado dropped a second, more violent tornado at around 3:42pm CDT. This tornado rapidly intensified into an EF-5 and immediately hit the city of Smithville 5 min. later. Numerous homes in the city were swept away including one which was so aggressively picked up that the foundation was lifted partially out of the ground. 16 people were killed in the city. At the same time hundreds of miles to the south, another tornado touched down in Tuscaloosa County, but the tornado was relatively weak as it passed through the north side of the county. Meanwhile back north, the tornado that devastated Hackleburg devastated another city: Phil Campbell. Houses in the city were swept away, a church was completely destroyed and swept away while 3 others sustained significant damage. The tornado continued to just outside of the city where the worse damage was observed. Vehicles were thrown and mangled to the point that they were no longer recognizable and brick houses were completely swept away with their debris thrown hundreds of yards. The tornado continued to move northeast and devastated the community of Mt. Hope. Here a restaurant was destroyed with just a pile of debris left and a part of the foundation broken. The Smithville tornado also crossed into Alabama but significantly weakened to an EF-1. Further to the south, another tornado had crossed into Alabama where it severely damaged a home made out of cinderblock at EF-3 strength but began to lose steam as another cell to its south began competing with it. Although it looks like the tornado threat was weakening, everyone knew this was just the beginning. In fact, it was about to get much worse and there was even another wave of supercells behind this one.
At 4:05pm the Hackleburg tornado hit the city of Moulton at EF-4 intensity destroying many houses in the town. Also, at this time the supercell that produced the Cullman tornado produced another multi-vortex tornado where it immediately intensified into an EF-4 passing north of Pisgah and Rosalie where it destroyed many homes. It then passed north of Flat Rock as it completely swept away a farmhouse and killed many animals. Meanwhile the Smithville tornado intensified to an EF-3 and ravaged mobile homes and farm houses in the region killing 7 more people. It continued north of Hamilton and dissipated at 4:23pm CDT after killing 23 people.
Further south, the weak tornado in northern Tuscaloosa County strengthened and crossed into Fayette County where it reached EF-3 strength and destroyed a mobile home and displaced its debris. It then weakened back into an EF-1. Meanwhile the EF-3 tornado to the south succumbed to the new supercell forming. This new cell began intensifying and put Tuscaloosa County back under the gun. Back north the Hackleburg tornado that was still on the ground and crossed the Tennessee River where it hit the city of Tanner which was hit by not 1, but 2 F-5's in the 1974 Super Outbreak. Here the city had been devastated with several foundations being wiped clean at possible EF-5 intensity. It then weakened back to an EF-3 as it hit the communities around Harvest doing more damage. It would continue to gradually weaken and dissipated almost an hour later at around 5:30pm CDT. 72 people were killed in the 132 mile track and over $1B in damages was done. It was the deadliest, longest and second costliest tornado of the outbreak.
Besides this tornado the bulk of the activity began to shift further south. The tornado in Fayette County strengthened into an EF-2 and passed just south of Oakman damaging many homes before strengthening into an EF-3 causing heavy damage to a cinder block home. It then hit the city of Cordova at that intensity sweeping away many homes and damaging many others. Back south over Greene County, the supercell there finally dropped large multi-vortex tornado that began moving toward Tuscaloosa County and more majorly, the city of Tuscaloosa itself.
Meanwhile after devastating the city of Cordova, the tornado here intensified into an EF-4 and began to destroy and throw many vehicles long distances. It weakened back to an EF-3 and passed just south of Sipsey destroying many more homes. Back North, a new tornado touched down very close to the path of the Flat Rock tornado. The tornado touched down at 5:05pm and strengthened into an EF-2 tornado when it hit the city of Stevenson causing significant damage before hitting the airport and reaching EF-3 intensity. Here several truss towers were bent and flattened. It went over rural areas where it reached EF-4 intensity and destroyed a cinder block home leaving just a pile of rubble behind. Back south, Channel WVUA in Tuscaloosa showed the tornado in Tuscaloosa County hit the city of Tuscaloosa head on as their power went out and meteorologist Richard Scott became visibly nervous but still remained calm in his speaking. The storm caused major devastation. Homes were completely destroyed and some were swept way with even well-built apartment buildings being destroyed. This tornado was also caught on air by channels CBS 42 and ABC 33/40 with meteorologist James Spann saying "all you can do is pray" as the tornado began to rip through town. 44 people were killed in the city before it weakened and moved through a densely wooded area debarking and uprooting trees producing a scar that can still be seen to this day.
Back north the Stevenson tornado continued to move through more rural areas and flatten many houses before crossing into Tennessee and weakening into an EF-2. It dissipated around 5:30pm CDT leaving the Tuscaloosa and Cordova tornadoes the lone violent tornadoes active. The Cordova tornado restrengthened back to an EF-4 and destroyed 2 cinder block houses before fluctuating between EF-2 and EF-3 for the rest of its life. But back over Mississippi, a new, strong EF-2 tornado touched down near Raleigh, and began to steadily intensify into a violent EF-4 destroying many mobile homes. Around 6pm the tornado entered Jasper County in Mississippi where it destroyed many mobile homes and frame houses and debarked trees. Meanwhile the Cordova tornado dissipated after traveling 127 miles for over 2 hours and killing 13 people. Meanwhile the Tuscaloosa tornado slammed into the northern suburbs of Birmingham causing heavy damage and destruction at EF-4 intensity. The tornado quickly dissipated after this but not after killing 64 people and also doing over $1B in damages and becoming the costliest tornado of the outbreak. This left the Raleigh as the sole violent tornado while 2 other EF-3 were also on the ground — One in Northwest Alabama that stayed over forest areas but did sweep a building off its foundation, and a long-tracked one just southwest of the Tuscaloosa cell that also impacted very wooded regions, but also the town of Eoine where it caused heavy damage or destroyed many houses and even destroyed the fire department. But the amount of tornadoes down would quickly change as previous supercells refused to give up so early.
At 6:19 pm the supercell that had produced the Philadelphia EF-5 and Cordova EF-4 dropped another tornado which quickly intensified into an EF-5 as it hit the city of Rainsville, AL. Here businesses were completely destroyed and houses were swept away. One particular house had its stone structure swept away and a concrete pillar so aggressively pulled up that its concrete foundation was damaged. Roads were also scoured and it even broke a concrete porch in half. It then skimmed the city of Sylvania and ripped a sidewalk out of the ground as well as destroy a church and many other homes in the region. It later crossed into Georgia as an EF-1 before dissipating at 6:55pm CDT with a final cost of 25 lives. Meanwhile the Tuscaloosa supercell produced another tornado at 6:28pm CDT that intensified into an EF-3 as it moved through rural areas while leaving just the interior walls left in houses. It strengthened into an EF-4 as it skimmed the northern part of Ohatchee as it destroyed every house in sight and even sweeping some away. It weakened after destroying 256 houses to an EF-3 as it moved near Wellington and through Piedmont. It then moved through rural areas of Georgia before dissipating after tracking for almost 100 miles and killing 22 people in just over an hour and 45 minutes.
In Mississippi the tornado there weakened from an EF-4 and hit the city of Rose Hill as an EF-3 causing heavy damage in the city. It then moved south of the city of Enterprise and intensified into an EF-4 just east of the city destroying and sweeping away a home under construction but almost complete. It weakened back to an EF-3 as it crossed into Alabama around 7:30pm CDT after traveling for 67 miles. It quickly sped through Alabama as an EF-2 and dissipated after traveling for 122 miles but only killed 7 people. But before the Enterprise and Ohatchee tornadoes dissipated, the Philadelphia tornado supercell would drop another EF-4.
At 7:15pm CDT, 20 minutes after the Rainsville tornado, the supercell dropped a large and powerful multi-vortex tornado which quickly intensified to an EF-3. It hit the city of Ringgold, GA which sat comfortably on Interstate 75. This allowed for a hotel and several restaurants and gas stations to be partly destroyed by the tornado. It then moved through the residential region where it strengthened into an EF-4 as many homes were destroyed and some were swept away. It then crossed into Tennessee where the community of Apison was also obliterated at EF-4 intensity while Cleveland was skimmed to the south and east. It continued on its trajectory killing 20 people before dissipating at 8:07pm CDT, almost an hour later.
While the event began winding down, 2 more EF-4 occurred in Southern Tennessee. The first occurred at 6:35pm CDT and was produced by the same cell that produced the Cullman tornado. However, it mainly stayed in the forested regions of the mountains and didn't cause a significant amount of damage minus uprooting and debarking thousands of trees and ripping a TV station transmitter right out of its concrete base. Meanwhile further east at just after 8pm, another EF-4 tornado touched down and moved just south of Pikeville where houses were completely destroyed as farm vehicles being mangled and being thrown with cars. 4 people were killed in it in this region. 5 minutes later the last EF-4 tornado touched down in Southern Alabama. It was an EF-3 for a lot of its life at the beginning passing near the cities of Central and Eclectic. It strengthened into an EF-4 when it began to ravage the Lake Martin region, completely destroying houses on the lake leaving nothing left but the basement. It then moved near Dadeville where another 2 houses were destroyed. it continued and destroyed a few more houses before lifting an hour later. 7 people were killed in this tornado.
After this point the threat began to die down. storms began to organize into a large linear system stretching from Southern Alabama to Kentucky. At 8:20pm CDT a tornado of the Tuscaloosa, AL tornado supercell touched down in Northern Georgia as an EF-3, though it mainly stayed over rural areas and missed major cities. An hour later at 9:30pm CDT the final tornado produced by the supercell touched down in a wooded area in the northern part of the state killing 2 and being rated EF-3. The final major tornado of the Philadelphia tornado touched down in Georgia and destroyed many houses killing 6.
Meanwhile in the Northeast and Mid-Atlantic, the low-pressure from the morning squall line began to produce isolated storm systems in the area. At 1:25pm EDT, a Tornado Watch was issued for Virginia, North Carolina and small portions of West Virginia and Maryland for this threat, though few storms ended up forming. 2 hours later another Tornado Watch was issued for New York, Pennsylvania and a small portion of West Virginia for a developing thunderstorms. Storms would form, but only 2 tornadoes would touch down in the regions. At 6:15 EDT, a new Tornado Watch was issued for Virginia, North Carolina and Maryland as isolated supercells rapidly developed. 11 tornadoes touched down in Virginia (along with 1 in West Virginia) including an EF-2 that destroyed 5 buildings/mobile homes and damaged 20 others killing 1 person. Watches were also issued for the Midwest and Kentucky, but widespread storms failed to develop and only 4 tornadoes touched down, though 2 EF-1's in Kentucky did cause some moderate damage. By 11pm CDT, things began to wind down and at 11:56pm CDT the last tornado lifted.
Never before had there been a day so active like this one. 212 tornadoes touched down this day including 11 EF-4's and 5 EF-5's. 9 of these violent tornadoes were produced by 3 supercells: the Philadelphia (4), Cullman (3) and Tuscaloosa (2). More tornadoes occurred this day than ever before in world history while it comes in third of most violent (EF-4 and EF-5) tornadoes behind the Palm Sunday Outbreak of 1965 and 1974 Super Outbreak. It is also only the second day in history to have more than 1 EF-5 occur during it (other being April 3, 1974). 316 people were killed this day including 270 in Alabama alone in the state's deadliest outbreak. This made it the deadliest outbreak in American history. over $10B in damages was also done making it the costliest tornado outbreak in U.S. history. The storms would move on to the East Coast where on April 28, it would be there turn to feel the brunt of the tornadic activity, but be overshadowed by the previous day.
April 27, 2011 will live long in the minds of the weather community and south as one of the worst weather outbreaks in US history 10 years ago today.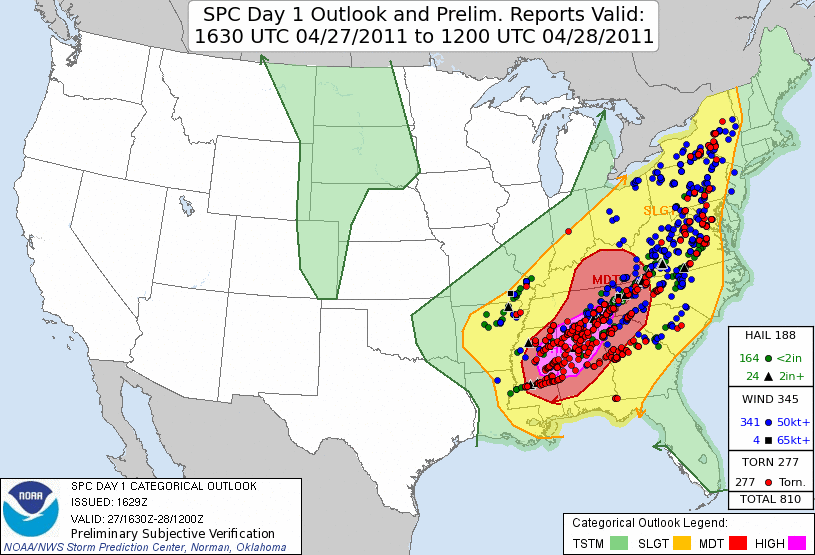 Sources:
https://www.spc.noaa.gov/cgi-bin-spc/getacrange.pl?date0=20110426&date1=20110427&csrf=61900d0263b3a25d33ad14a43279d1a7552b2dbb
https://www.spc.noaa.gov/exper/archive/event.php?date=20110427
https://mesonet.agron.iastate.edu/current/mcview.phtml?prod=usrad&java=script&mode=archive&frames=300&interval=5&year=2011&month=4&day=27&hour=0&minute=0
https://mesonet.agron.iastate.edu/current/mcview.phtml?prod=hunrad&java=script&mode=archive&frames=300&interval=5&year=2011&month=4&day=27&hour=0&minute=0
https://gis.ncdc.noaa.gov/maps/ncei/radar
https://en.wikipedia.org/wiki/2011_Super_Outbreak
https://en.wikipedia.org/wiki/List_of_tornadoes_in_the_2011_Super_Outbreak
https://www.youtube.com/watch?v=J8uSIQLftME
https://www.youtube.com/watch?v=EGrErqGrtjw&t
www.youtube.com/watch?v=FE6lHka1jqc&t
www.youtube.com/watch?v=ElZZNvNdhks&t
www.youtube.com/watch?v=Ftz5UL8S2Ms&t