This Week In Weather – October 23-29, 2021

Atmospheric River in California 
An atmospheric river and a bomb cyclone brought heavy amounts of rain and snow, strong winds, and dangerous squalls over the Western United States earlier this week. Locals reported knocked down trees and several mudslides and flooding near San Francisco. Power utility reported that 646,000 homes and businesses lost power that was brought back by Monday. NWS Sacramento reported nine areas in Northern California reported 72-hour rain totals of at least six inches, with Grass Valley tallying the most amount of rainfall at nearly 13 inches. Meanwhile, Downtown Sacramento received a 24-hour total of 5.44 inches that shattered an all-time record set in 1880.
Despite heavy rainfall, it didn't end the state's wildfire season. Cal Fire spokesperson Isaac Sanchez said, "We'd like to see some more rain coming our way before we look at reducing staffing." [1] Most of Western US, including California, remains in drought as per the latest outlook released October 21, 2021.
Hurricane Rick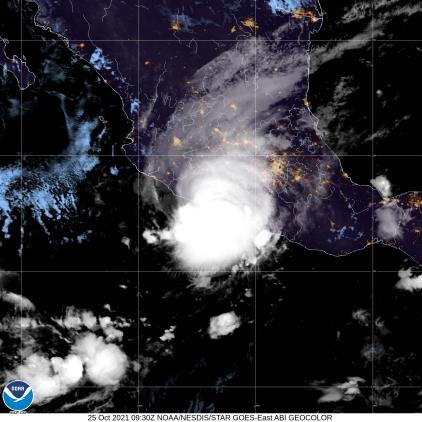 After a week of inactivity, the National Hurricane Center started monitoring a possible area of low pressure to form in a few days near the Pacific coast of Mexico. An area of disturbed weather was identified off the coast of Guatemala and El Salvador the next day. As it moves generally west and slowly organizes for days, it became Tropical Depression Seventeen-E by the morning, and was named Rick by the afternoon of October 22nd.
With favorable environmental conditions, Rick became the eighth hurricane of the season the next day. It continued to strengthen prior to landfall and peaked as a 105 mph Category 2 hurricane, and by the morning of October 25th, RIck made landfall in the state of Michoacan. Rick rapidly weakened as it moved inland and brought heavy rainfall in the states of Guerrero and Michoacan. According to the Associated Press, authorities in Lazaro Cardenas had opened sic emergency shelters for the people to escape low-lying areas during Rick's landfall. There was no reported death and the damage brought by Rick was unknown.
Southern US Tornado Outbreak
Tornadoes and damaging thunderstorms struck the South-Central US this week, with areas of Southeast Texas and Western Louisiana being hit hardest, caused by a powerful low pressure system moving through the Central US. An EF2 tornado struck the suburbs of Lake Charles, Louisiana causing structural damage to about a dozen homes. The tornado caused at least one injury.  
However, the most impressive tornado was an EF2 tornado that passed through Orange, TX and displayed an incredible sight as an ATV was picked up and thrown across the I10 interstate. Surveyors found the ATV in a shallow ditch after the tornado with severe damage. The tornado also caused minor structural damage to warehouses and other structurally insufficient buildings. 
The month of October has produced several significant severe weather days across the US. Moderate risks (level 4/5) were issued on October 10th and October 12th, causing significant tornadoes across the Central Plains, and specifically Oklahoma. The National Weather Service office in Norman, Oklahoma has recorded a record setting 30 tornadoes in the month of October alone, breaking the previous record of 27 tornadoes in 1998. Records have been kept since 1950 on tornadoes. 
Thankfully, calmer weather appears to be forecast for the Central and South-Central US, with the SPC has forecast no areas of severe weather for at least the next three days. Temperatures are likely to be seasonal, with sunny conditions for much of the region. High Wind Warnings and Wind Advisories were in effect for areas of Texas and Oklahoma on the 28th, but these warnings have expired as the respective low has moved to the east.
Philippines Cold Dry Season
On Monday, PAGASA announced the start of the Northeast Monsoon (Amihan) Season. PAGASA cited "strong to gale-force northeasterly winds have prevailed over Northern Luzon due to the strengthening of the high-pressure system over Siberia and enhanced by passing of low pressure areas (LPAs)."
With these developments, the country, especially the northeastern part of Luzon, would experience gradual cooling of surface air temperature. Surges of cold temperature may be expected in the coming months, especially to the months of January and February. But the agency warned that with the on-going La Niña, Northeast monsoon rainfall may be enhanced that could trigger floods, flash floods, and rain-induced landslides over susceptible areas.
PAGASA hydrologist Edgar de Jesus points that "rain from amihan will raise Angat's water and bring this closer to its normal high level" and improve Angat's capability to serve its customers in the coming months. He added, "the watershed of Angat is located closer to the eastern section of Luzon so this dam generally receives more water from the rain of amihan than habagat, which mainly affects the western section [of the island]." Angat Dam serves 90% of the country's capital region's water supply.
Mediterranean Tropical Cyclone
Tropical Storm Apollo formed in the Mediterranean Sea late this week, becoming the first officially named storm ever in the basin. As of Friday evening the storm was located at 36.6N and 16.1E, just off the Sicilian coast. The storm had impressive wind strength at 65mph and held a pressure of 995mb. Apollo was moving NNW as of the time of this article.
Apollo was roughly 102 kilometers from Syracuse and 143 kilometers of Catania, both in Italy. Gale warnings are largely in effect for Sicily and Southern Italy, with gale advisories being issued for the Western shores of Greece. Apollo does face some challenges in intensifying and holding strength, as it meanders in less than favourable waters at 20 to 22 degrees centigrade. 
Apollo is a rare "Medicane," a subtropical or tropical cyclone which forms in the Mediterranean sea. Such storms are rare, with only one or two a year at very most. A great challenge to the predicting of such storms generally has been the lack of an official agency to name and document such systems which develop, although this has been changing. The Italian Meteorological Service or Servizio Meteorologico as known locally has issued the names for the storm as it has continued to churn near Sicily.
Articles on CA Atmospheric River, Hurricane Rick and the Philippine Dry Season written by Justine, while articles on Apollo and the Southern US tornado outbreak written by Preston Schenk.
[1] – Rodriguez, Olga R. "'Atmospheric River' Drenches Drought-Stricken California OLGA R. RODRIGUEZ." ABC News, ABC News Network, https://abcnews.go.com/Technology/wireStory/correction-california-storms-story-80816016.