Tropical Storm Henri to impact New England, New York
CURRENT STATUS
Tropical Storm Henri maintained strength as it inches towards Long Island and New England early Sunday morning. As per 11 AM EDT advisory of the National Hurricane Center. Henri was located at 41.1N 71.6W or about 15 miles (25 kilometers) east of Montauk Point, NY, or about 50 miles (80 kilometers) south-southwest of Providence, RI with sustained winds of 60 mph gusting up to 70 mph, and minimum central pressure of 987 millibars. The storm is currently moving north-northeast at speed of 12 mph.
CURRENT WARNINGS
Storm Surge Warning (There is a danger of life-threatening inundation, from rising water moving inland from the coastline.)
• South shore of Long Island from Mastic Beach to Montauk Point, NY
• North shore of Long Island from Montauk Point to Flushing, NY
• Flushing, NY to Chatham, MA
• Nantucket, Martha's Vineyard, and Block Island
Tropical Storm Warning (Tropical storm conditions are expected somewhere within the warning area)
• East Rockaway Inlet, NY to Chatham, MA, including Long Island
• Block Island, Nantucket and Martha's Vineyard
OBSERVATIONS/REPORTS
Rescue officers in states of New York, Connecticut,  Island, Massachusetts, New Hampshire, Vermont, and Maine said that they're ready for the "worst-case scenarios" to be brought by Tropical Storm Henri as governors of the said states urged people to stay home. NY Governor Andrew Cuomo and MA Governor Charlie Baker also activated states' National Guards to assist with high water rescue and debris cleaning. Due to Henri, Newark, La Guardia, and Logan airports have some delayed and cancelled flights; Long Island and Cape ferries also cancelled it's operation due to storm surge that Henri will bring.
Here are more observations reported by NWS/NHC:
• Weather station in Block Island, RI recorded sustained winds of 50 mph and gusts of 63 mph
• A WeatherFlow station near Point Judith, RI reported a sustained wind of 43 mph and gusts of 51 mph.
• A Weatherflow station near the eastern end of Long Island, NY measured a sustained wind of 41 mph, and gusts of 54 mph.
• The NOAA C-MAN station on Buzzards Bay, MA reported a sustained wind of 49 mph and gusts of 52 mph
Rainfall totals associated with Henri:
Cranbury, NJ: 8.91 in.
Jamesburg, NJ: 8.25 in.
Plainsboro, NJ: 7.50 in.
Brooklyn, NY: 6.32 in.
Surf City, NJ: 5.30 in.
Prospect Park, NY: 5.24 in.
East Windsor, NJ: 5.12 in.
Downtown Manhattan: 4.73 in.
Power Outage in US Northeast (Data at 12:10PM EDT Aug 22 2021:
Rhode Island: 74,228
Connecticut: 19,975
Massachusetts: 5,550
Maine: 5,481
New Jersey: 4,841
New York: 2,323
Pennsylvania: 2,043
New Hampshire: 189
Vermont: 17
*Some might not be related to Henri*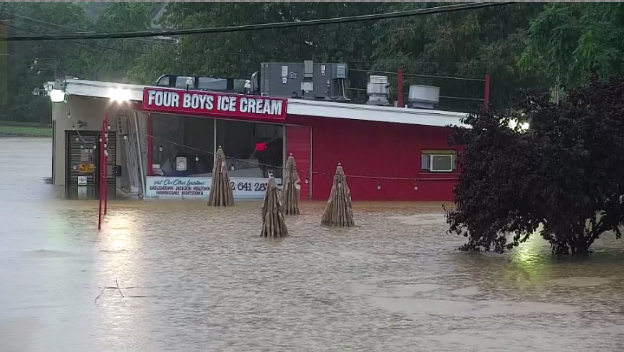 FORECAST
Henri is forecast to continue it's north-northwest movement up until it's landfall on New England. While inland, it will slowly move northwestward and turn east-northeast as it become embedded in the southern extent of the mid-latitude westerlies.
Regardless of exact landfall point of Henri, flood-inducing amount of rainfall, storm surge timed with high tide, and wind damages should still bring some considerable damages in New England and eastern New York, especially to the coastal areas.